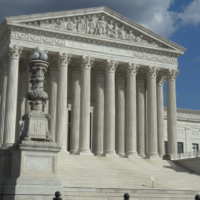 On Monday, the U.S. Supreme Court unanimously ruled against the city of Boston, saying they violated the First Amendment when they denied a group the opportunity to fly the Christian Flag outside City Hall four years ago.
In 2017, the New Hampshire-based group Camp Constitution — which focuses on promoting "Judeo-Christian moral heritage" — had asked to fly the flag from one of three 83-feet-tall city flag poles outside Boston City Hall to celebrate Constitution Day.  Created in 1907, The Christian Flag features a white field and a red Latin cross inside a blue canton and has been used by many churches from varying denominations in the United States since its adoption by the Federal Council of Churches in 1942.
Camp Constitution's founder Hal Shurtlef said that the commissioner of Boston's property management department told him that his organization could not fly the flag because he worried it would violate the U.S. Constitution's establishment clause and that there was no instance of the city ever raising such a flag. Camp Constitution sued, arguing that the Christian Flag was the only one from a civic group that had ever been denied, and that Boston had flown around 50 unique flags since 2005 during similar public events.
Two lower courts had sided with the city of Boston, before the Supreme Court said it would hear the case last September. Arguments were presented before the high court in January. Justice Stephen Breyer wrote that the court concluded that the flagpole served as a public forum and that Boston had not used it as a form of governmental speech.  He wrote: "The parties dispute whether, on these facts, Boston reserved the pole to fly flags that communicate governmental messages, or instead opened the flagpole for citizens to express their own views."
Editorial credit: Bob Korn / Shutterstock.com