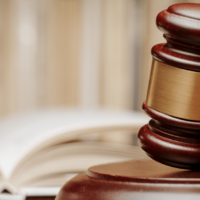 A Connecticut man was convicted Tuesday of all charges for murdering his wife. Despite alleging the crime was committed by an intruder, the defendant's testimony was contradicted by a "Fitbit" activity tracker.
Following a five-week trial, a jury in Rockville Superior Court in Connecticut took less than four hours to find 45-year-old Richard Dabate guilty of guilty of all three charges — murder, tampering with evidence and making a false statement to authorities — for fatally shooting his wife, 39-year-old Connie Dabate, two days before Christmas in 2015.  The murder charge carries up to 60 years in prison. He is scheduled to be sentenced on Sept. 16. Court marshals handcuffed Dabate and led him out of the courtroom after Judge Corinne Klatt increased his bond to $5 million. He had been free after posting $1 million bail following his arrest. Dabate's lawyer, Trent LaLima, said they would be appealing the verdict:  "I think we put on a very strong case for why Rick did not commit this offense."
Prosecutor Matthew Gedansky said in his closing argument that Dabate hatched a plan to kill his wife and stage a home invasion as his life was about to unravel with the birth of a child he was having with another woman. Connie Dabate was wearing the activity tracker wristwatch and data recovered from the device allegedly showed she was leisurely walking around an hour after Dabate claimed she had been killed by a large masked man with a voice like actor Vin Diesel and dressed in camouflage, and tied him up at the couple's Ellington home in December 2015. Police said the information onConnie Dabate's Fitbit contradicted her husband's story.
Editorial credit: Sergii Gnatiuk / Shutterstock.com