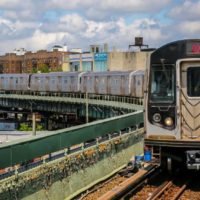 A suspect in the unprovoked fatal shooting of a man on a Q train in New York City is in custody. Law enforcement sources identified the suspect as Andrew Abdullah, a 25-year-old man from Brooklyn with about 20 prior arrests, including an outstanding gun charge from last year. He also has prior arrests for assault, robbery, menacing and grand larceny, sources said.
Abdullah has three cases that are still pending, including an April arrest for fourth-degree criminal possession of stolen property for allegedly being found with a stolen motorcycle, as well as a June 2021 arrest for violating a protective order and March 2021 arrest for assault.
Abdullah arranged a surrender through his pastor to officers at the 5th precinct. The New York Police Department had released surveillance photos Monday of the suspect believed to have shot 48-year-old Daniel Enriquez, taken shortly after he exited the subway.  Detectives have also recovered the gun used in the shooting, which the suspect allegedly handed to a homeless man as he fled the Canal Street station. Sources say the homeless man then apparently sold the gun for $10 to a third person, who reported it to police.
Witnesses say the suspect was pacing back and forth in the last car of a Manhattan-bound train around 11:45 a.m. when he pulled out a gun and fired it at Enriquez unprovoked. A motive for the shooting is still unknown.
Editorial credit: Leonard Zhukovsky / Shutterstock.com