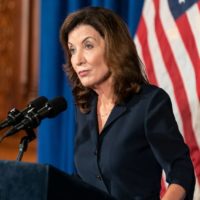 New York Gov. Kathy Hochul signed sweeping gun reform bills on Monday, banning individuals under the age of 21 from buying or possessing a semi-automatic rifle. The package was passed by the New York Assembly on June 2 after the May 14 shooting at a grocery store in Buffalo that left 13 dead and the May 24 shooting at Robb Elementary School in Texas that left 19 children and two adults dead.
The new legislation will add to previous gun laws by banning the purchase or possession of semi-automatic rifles by those under 21, requiring state and local law enforcement agencies to share gun crime information with federal databases, expanding the ability of health care professionals, police and district attorneys to file Extreme Risk Protection Orders, banning the sale of body armor to the general public and requiring a license to purchase assault weapons. The package will also criminalize both the act of making a threat of mass harm and adding to a threat with overt acts to further it.
Gov. Hochul said:  "This is a moral moment for the people of New York but also the rest of the nation. Follow what we did here in New York, and we'll finally start to be at the beginning of the end of all this gun violence and the massacres that are occurring every day in our country." Hochul announced further funding as part of New York State's Gun Involved Violence Elimination initiative.  The funding will go towards 20 local police departments across these 17 counties that account for over 80% of the violent crime in New York.
Editorial credit: lev radin / Shutterstock.com