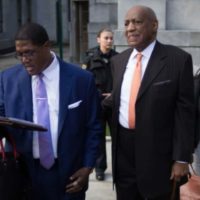 On Tuesday, a Los Angeles jury found Bill Cosby guilty of sexually assaulting a 16-year-old girl in 1975. The jury of eight women and four men found the 84-year-old Cosby liable for damages and awarded the plaintiff, Judy Huth, $500,000. Huth filed the civil lawsuit in 2014, but it was put on hold as prosecutors pursued a criminal case against Cosby in Pennsylvania that resulted in his 2018 conviction on charges he drugged and sexually assaulted Andrea Constand.
Jury deliberations restarted on Monday after they left the question of whether Cosby acted with "malice, oppression or fraud" unanswered by day's end on Friday. Jurors had reached a verdict on the eight other questions on the second day of deliberations, including whether Cosby sexually molested Huth, whether she was under 18, and whether Cosby had reason to know her age.
Huth told a reporter after the verdict was delivered, "I feel vindicated."  Cosby was released from prison last year after the Pennsylvania Supreme Court overruled his 2018 criminal conviction, ruling that there was a due process violation because Cosby had an agreement with a previous prosecutor that he wouldn't be charged in the case. Cosby has denied all allegations of sexual assault.
Editorial credit: Michael Candelori / Shutterstock.com