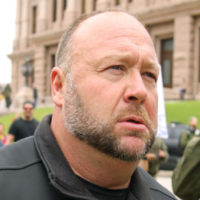 Infowars owner and host Alex Jones admitted on Wednesday that the 2012 mass shooting at Sandy Hook Elementary School in Connecticut did occur.  Jones said Wednesday: "Especially since I've met the parents. It's 100% real."
Jones made the admission during the civil trial that will determine how much the conspiracy theorist owes in defamation damages to the parents of the 2012 Sandy Hook mass shooting. Until Wednesday, Jones had steadfastly claimed that the event was a staged government conspiracy meant to take away Americans' guns.
The parents of 6-year-old Jesse Lewis, one of the 26 first- grade students and teachers killed in the shooting, are seeking $150 million in damages after Jones repeatedly described the shooting as a "giant hoax" involving government-employed "crisis actors." During cross-examination, the attorney representing Jesse Lewis' parents, Neil Heslin and Scarlett Lewis, told the courtroom that Jones' lawyer sent him an "entire digital copy" of Jones' cellphone "with every text message you've sent for the past two years" over a week ago. The phone also contained financial information pertaining to Jones' media company that he didn't turn over during deposition.
Editorial credit: Vic Hinterlang / Shutterstock.com