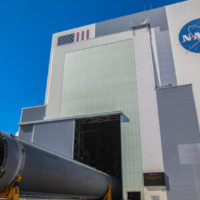 NASA's Space Launch System (SLS) and the Orion capsule, which were slated to launch as 'Artemis I' on a test flight to the moon, was scrubbed on Monday when engine troubles thwarted the much-anticipated liftoff.
Engineers detected an issue with one of the fuel lines as the rocket was being loaded with propellant. A liquid hydrogen line used to cool the rocket's core-stage engines malfunctioned partway through the launch countdown, and the test flight was eventually called off after troubleshooting efforts failed. The SLS rocket's four core-stage engines need to be cooled to cryogenic temperatures prior to launch to avoid shocking the system with ultracold fuel when ignited.
Artemis mission manager at NASA Headquarters Mike Sarafin said in a news briefing on Monday that the agency may try the launch again as early as Friday, if deemed safe to do so.  NASA Administrator Bill Nelson added that the agency will not go through with the test until the vehicle is ready: "When you're dealing in a high-risk business — and spaceflight is risky — that's what you do. You buy down that risk. You make it as safe as possible."
NASA officials said the rocket and spacecraft are currently "in a stable, safe condition," adding that engineers will continue to gather data from the vehicle on the launch pad. The agency is expected to hold another briefing Tuesday to discuss initial findings from the investigation.
Editorial credit: Hasbul Aerial Stock / Shutterstock.com